As FORBES AFRICA celebrates a landmark 10th year, we look back on our stellar collection of compelling cover stories and innovative features, coming up with a star cast of powerful personalities, from business behemoths to captains of industry and exceptional leaders in politics, art and civil society. On these pages that follow are their thoughts, triumphs and testimonials, not just for the magazine but for Africa's continued growth as we transition together into the future.
By Renuka Methil, Peace Hyde, Yeshiel Panchia & Chanel Retief
From running her own organization, to becoming the first black woman executive at the head of Naspers South Africa, Phuthi Mahanyele-Dabengwa has come a long, meaningful way. She was also the cover of FORBES AFRICA in August 2018 with Stacey Brewer of SPARK Schools. Here are excerpts from a recent interview with the CEO of the JSE-listed company, whose priority is also developing South Africa's early stage startups and skilling and employing young people: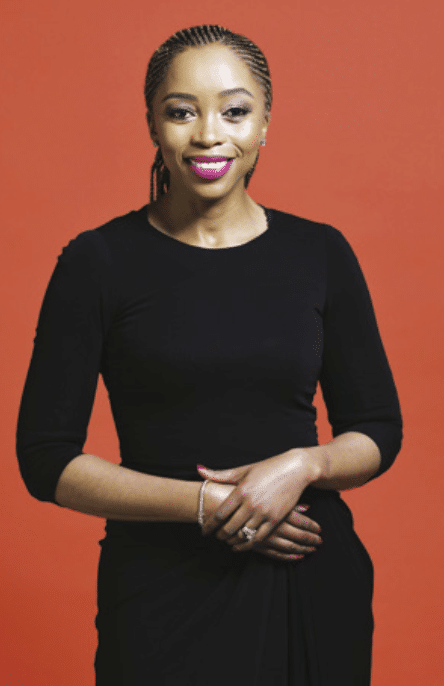 Q. You play a big part in South Africa's tech ecosystem backing startups. How did Covid change your business philosophy and how did you adapt?
A. There was no business immune to the impact, not even in the internet industry. We had many businesses that did well during this pandemic, but we also had businesses that did terribly, because they required face-to-face engagement. And so, as with most companies, we also faced challenges, especially during the hard lockdowns. And from the outset, our first priority was to ensure the safety of our own people. We immediately ensured that we had a work-from-home policy…The lockdowns led to an acceleration in the general trend towards online, which was underway globally. Whilst we were focusing on ensuring the safety of our staff, we were also looking at growing our businesses. What we saw was significant acceleration. Certainly, if you look at the US, as an example, we saw an acceleration to online, which would typically have taken about seven years, took only one month. Here in South Africa, our online retail business Takealot and our food business, Mr D Food, experienced exponential growth. We believe that a lot of the new online trends will remain, notwithstanding what happens with respect to the Covid-19 pandemic receding.
I believe for many companies, digitization has become a lifeline. And so with technology, it allows them the ability to stay operational, in a world where social distancing has become the norm. And so, we have seen many organizations now having their own platforms, and providing their goods online. And we applaud that, because we want to see more people being digitally available… But in South Africa, we do need to ensure that people have access for the ability to engage with online goods…We need both the public sector and private sector working together in order to ensure that we can realize the growth we see in many countries around the world, particularly those such as India, where growth in the tech industry has been phenomenal. And we want to see that here in Africa.
Through the Naspers Foundry, we've also invested in companies such as Aerobotics, in agritech businesses and edtech. Fintech is also so important.
Q. What would you tell FORBES AFRICA on its 10th anniversary?
A. One of the things I love about FORBES AFRICA is the stories you tell about Africa. You go and meet with CEOs and the leaders of businesses. We spoke about the rise of fintechs, across the continent, and it's FORBES AFRICA that will tell the story… We need to continue to hear this positive good messaging… Your engagement with leaders has been so pivotal, like the President of the African Development Bank, so we can see the realization of a different, new, vibrant Africa emerging.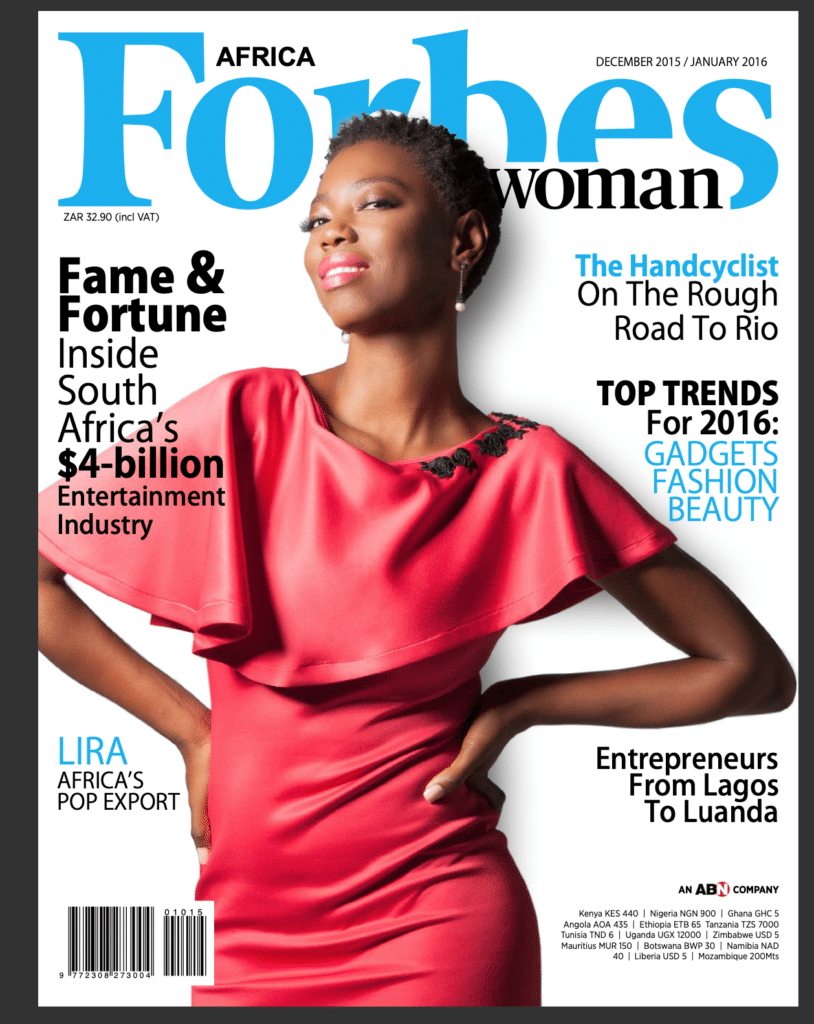 In 2015, when FORBES WOMAN AFRICA spoke to South African singer Lerato Molapo, more famously known as Lira, she was a globe- trotting star. Now, the 49-year-old acclaimed songstress says the pandemic has forced her to appreciate the virtues of virtual performances where there may only be an audience as big as 50 people.
"My trajectory was to be working in South Africa, the United States and in Europe. And I've managed to be doing that for at least consistently the last eight years," Lira tells FORBES AFRICA in a recent interview.
"The first thing I realized was that Covid wasn't personal. A lot of our businesses almost felt like they were in trouble. But I was like, 'it's not personal, it's happening to everyone'."
As someone who has always spoken as "a businesswoman in music", as in her cover feature in the December 2015 issue of FORBES WOMAN AFRICA, Lira believes that musicians were hit just as hard as any industry. However, she packed her bags, went to Namibia for a couple of months, decided not to stress and found that the opportunities came to her.
"So, while I was in the media, there were opportunities to do shows online. Now, as an artist, the reason I don't like the idea of putting on my own show online is that South Africans don't attend online shows in numbers," she says. "The opportunities I was getting was like a corporate or a magazine willing to fund the whole thing. And we just offered to the public for free. So that was wonderful."
Lira's message to FORBES AFRICA on its 10th year: "The magazine's existence, in my opinion, also drives excellence for people to want to be associated with something of such high caliber. So firstly, thank you so much for coming into the country, but also for telling African stories, because the closer the stories are, the more motivating it is."
Gil Oved, Co-Chief Executive, Bella Thaler Investments, was part of the trend-setting August-September 2017 cover of FORBES WOMAN AFRICA on male gender champions in corporate South Africa. At the time, he was the Group Co-CEO of The Creative Counsel and spoke about gender-parity in business, leadership and life. He returns to speak to FORBES AFRICA about his journey since: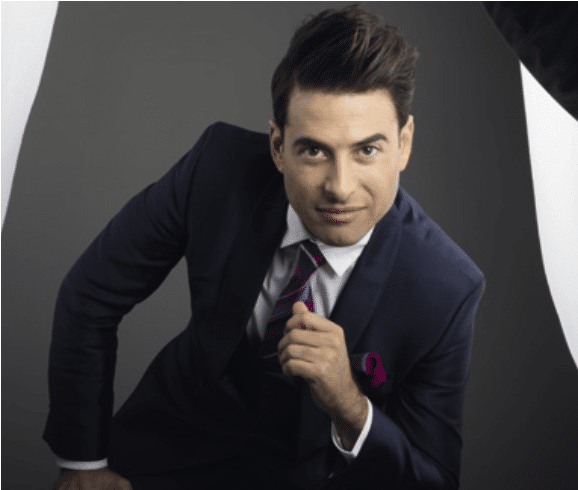 Q. How did your business pivot during the Covid-19 pandemic and what are your future plans?
A. I would say a more accurate depiction than pivot is a zig zag and then some zag zig for good measure. In the beginning, when it all started unfolding, we decided to pause, catch our breath, zoom out and try get some perspective. We thought it wiser to slow things down and not be tempted to be impetuous or swept up by the panic and discombobulation of the moment. We recognized that the world was in turmoil but also that the volatility and change brings new sets of opportunities. One of them is the potential that Special Purpose Acquisition Companies (SPACs) hold, and specifically for emerging markets. Though SPACs have been around for a while they never really took off until relatively recently… We've been spending time on that and some other interesting things that have managed to keep my mind occupied during this extraordinary era the world finds itself in.
Q. Your message to readers on our 10th birthday?
A. Such an impressive achievement. A decade of glory. FORBES AFRICA has been the continent's formidable champion of business excellence and entrepreneurial relevance. It's the marquee any self-respecting businessperson looks to in order to feel informed and well-read. The magazine and its related initiatives have stood up for the values the continent aspires to and has done so in the most trying of times and on a challenging continent and yet has remained resolute and true to its original promise. I salute you and I thank you for all that you have done and may the next 10 years prove to be 10 times more successful.
Well, I think we've got to recognize two things. The continent has enormous potential. I mean the continental economy is bigger than that of India. And we've got all the natural resources that one can wish for. So the potential is enormous… Secondly, I think people who are writing off the continent are making a bad mistake. They are ignoring Africa, at their peril. But all things are going to get better. And so I remain an 'Afro-optimist'… I want to congratulate FORBES AFRICA. And I want to express as an African my appreciation that they saw fit to have this special edition. Again, it is the recognition that Africa deserves."
– South African businessman Christo Wiese, who was the cover of FORBES AFRICA in March 2013 and May 2016.
September 2012 saw Aspen Group Chief Executive Stephan Saad, on the cover of FORBES AFRICA as 'Millionaire Medicine Man'. A lot has changed since for the South African pharma major, Aspen, especially now with Covid-19 and the company playing a lead role in manufacturing vaccines. Saad breaks down how to FORBES AFRICA:
Q. Please tell us more about Aspen's growth?
A. Aspen has reshaped itself over the past 10 years, completing a number of transformational projects across our operations. These changes have allowed us to differentiate Aspen as an emerging, market-focused, specialty pharmaceutical company, anchored by a manufacturing platform with significant sterile manufacturing capacity. During this 10-year period, we have concluded several acquisitions for the intellectual property rights
and access to specialty brands, injectable anticoagulants, a sterile manufacturing site in France, and an API business in the Netherlands [to name a few]. Most notably, Aspen is now also playing a critical role in the manufacture of Covid-19 vaccines under an agreement with Johnson & Johnson.
Q. What is your message to FORBES AFRICA on its 10th anniversary?
A. We congratulate FORBES AFRICA on this milestone occasion and wish you every success for the future as you continue to focus on publishing news and stories showcasing Africa that are factually accurate, relevant and of a superior quality. We hope to feature in your 20th anniversary presentation!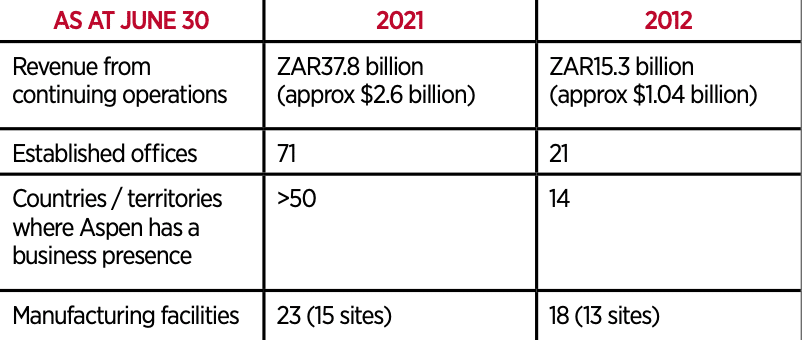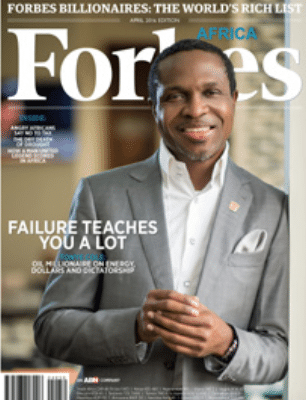 Nigerian politician and philanthropist Tonye Cole featured on the April 2016 cover of FORBES AFRICA as an oil millionaire and Founder and CEO of Sahara Group. Three years on, he says he took a big personal decision to move into politics.
"Three things helped me make up my mind about the move. The first is having traveled across Africa for business and meeting politicians etc, I found out that we were all troubled about the same thing always. There was concern about the type of leadership we had. Secondly, there was a lot of agitation amongst young people. They wanted change but they could not articulate exactly what they wanted. We needed to give them something they could hold on to. And thirdly, no matter how much we built our business at Sahara, I kept seeing that there was a very heavy hand of politics and policies affecting everything we did and so no matter how much we pushed as a business, there was people sitting on one side who would create a policy and that will set us back. So, I reviewed those things and decided that if you were going to impact life and you were going to make a difference, where can you do it in such a way that one decision that you take can impact thousands or millions of people?
"I found out that the only place you can really do this is through policies and government. Philanthropy, which I did a lot through corporate social responsibility, was targeted at certain people. Before leaving Sahara, we had a target of impacting four million people directly through our initiatives. Nigeria has over 200 million people and in politics, one decision you make can impact way more than four million. If you do the right thing, within a year or month, you can touch the lives of over 100 million people in politics whereas in Sahara, one initiative would take us about four years to make an impact."