Kenneth Odoemenam, the founder of KenChu's Farm Services, is making an impact in Nigeria's aquaculture industry by training others in catfish farming.
Kenneth Odoemenam, the founder of KenChu's Farm Services, is among the 80% of fish farmers engaged in catfish farming in Nigeria, which is Africa's third-largest fish producer, according to data from the World Bank.
With aquaculture production reaching 313,231 metric tons, Nigeria's fisheries and aquaculture subsector plays a vital role in the country's economy, contributing 5% to its Gross Domestic Product (GDP) and supporting the livelihoods of approximately 24 million people, as reported by the World Trade Organization (WTO).
Driven by the desire to challenge the notion that farming is exclusive to older individuals, Odoemenam embraced catfish farming and turned it into a thriving venture. With continuous learning and a passion for the craft, he steadily improved and scaled up his operations, establishing himself in the industry.
His journey began with an abandoned pond within his family's compound in Port Harcourt, the capital and largest city of Rivers State, located in the southern region of Nigeria.
The catfish farmer tells FORBES AFRICA: "We had a pond constructed on our family compound by a family friend, initially intended for fish farming but left unused. Recognizing the opportunity, I decided to start my catfish farming journey using that very pond.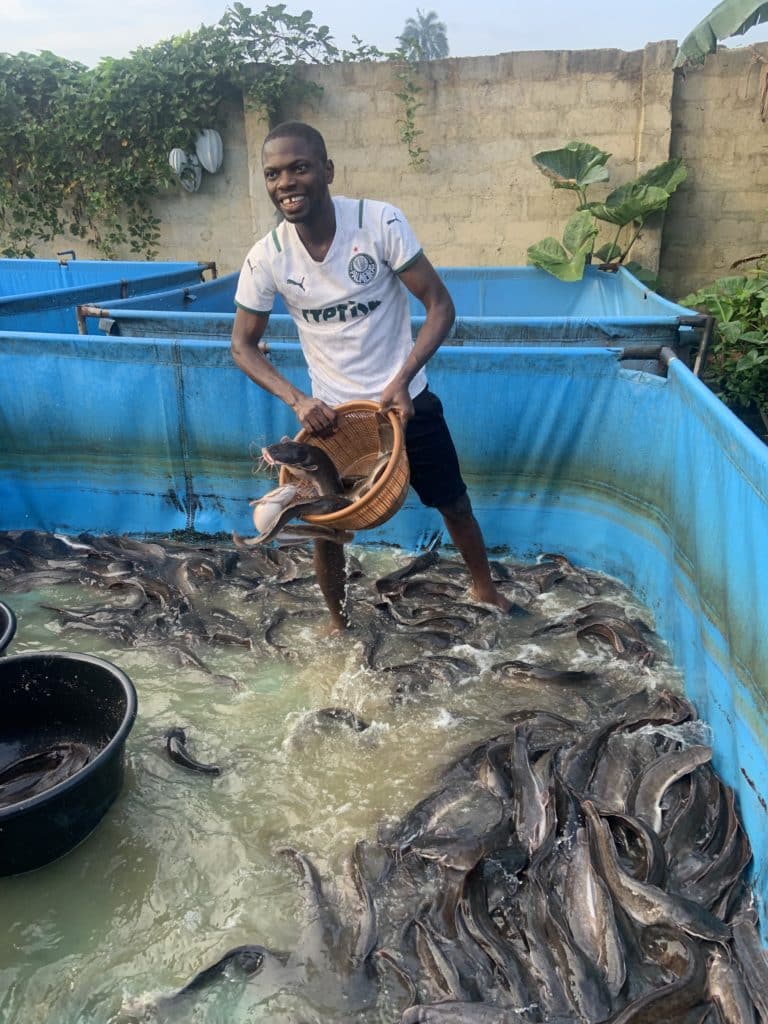 "After completing my first degree in Industrial Chemistry from Abia State University in 2017, I attended an enlightening agribusiness seminar that included specialized training in catfish farming. Eager to dive into this promising venture, I began with small-scale experiments, but initial results were not as I had hoped. Undeterred, I remained determined and committed to learning and seeking guidance from experienced individuals."
During the early days, he encountered learning curve challenges in understanding the intricacies of proper management, water quality, feeding schedules, disease prevention, and other essential aspects. He overcame with dedication to learning and seeking guidance which has helped him improve the management of the farm and achieve better results.
He also confronted the capital challenge to scale up operations. "As a young farmer, securing the necessary finances to invest in infrastructure, equipment, and fish stock can be challenging. Although I have been exploring different avenues, such as applying for grants, to secure the required funding."
Leveraging his background in data analysis and a master's degree in Environmental Chemistry and Pollution Control, he found innovative ways to integrate technology and sustainable practices into his catfish farming enterprise.
"I began my catfish farming journey while working as a data analyst. As my catfish farming enterprise grew and flourished, I made the decision to transition into full-time catfish farming. I am now fully dedicated to running and managing my catfish farm. Moreover, leveraging my expertise and experience in the field, I have also taken on the role of training and consulting for other catfish farms, sharing my knowledge and insights to contribute to the success of fellow farmers in the industry," says Odoemenam.
KenChu's Farm Services focuses on providing comprehensive farm consultancy, training, and farm setup services; offerings which its founder notes are essential to support aspiring aquaculture entrepreneurs, existing fish farmers, and investors seeking to venture into the sector.
His three-year old YouTube channel, Catfish Farm Enterprise, has become a valuable platform for sharing his expertise and knowledge, and it has over 5,700 subscribers and 151 videos.
"YouTube offers the opportunity to collaborate with other young farmers across Africa, by showcasing the work and achievements of young people in the aquaculture sector. My channel acts as a powerful marketing tool for my catfish farming enterprise. As my channel gains subscribers and viewership, it helps build my brand's reputation and recognition within the agriculture and aquaculture community. The exposure gained through YouTube has attracted customers interested in my products and services," says Odoemenam.
Through KenChu's Farm Services, he has achieved milestones, including training over 100 individuals in catfish farming and providing setup services for more than 20 catfish farms across the country, contributing to the growth of the aquaculture sector and generating employment opportunities.
His ebook, Guide to Successful Catfish Farming, and the development of an automated farm record sheet exemplify his dedication to promoting efficiency and sharing valuable insights with aspiring farmers.
Looking ahead, Odoemenam envisions a bright future for KenChu's Farm Services and the aquaculture sector as a whole.
"The aquaculture sector holds immense promise, particularly in Nigeria, where there is vast untapped potential. At KenChu's Farm Services, we will capitalize on this opportunity and make a significant impact in the industry," says Odoemenam.
He plans to expand his consultancy and training services to support aspiring aquaculture entrepreneurs and existing fish farmers. By embracing technological advancements, promoting sustainable practices, and focusing on capacity building and research, he aims to play a vital role in driving the growth and development of the aquaculture industry in Nigeria.
Odoemenam remains a beacon of hope and inspiration for young farmers and entrepreneurs. With his unwavering passion and determination, he is proving that the agricultural sector holds immense promise, and young people can actively participate and excel in this rewarding field.