South Africa | Music conductor
SOCIAL MEDIA NET WORTH
Instagram: 5.8K
Twitter: 5.3K
Facebook: 824
TikTok: 688
Words and Curation: Chanel Retief|Art Director: Lucy Nkosi | Photography: Katlego Mokubyane Photography Assistant: Sbusiso Sigidi Studio: NewKatz Studio, Johannesburg| Videographer: @astro.vn | CNBC Africa Videographer: Thabo Mathebula| Video Editor: Chanel Retief| Styling: Bontlefeela Mogoye and Wanda Baloyi | Outfits supplied by: Kworks Design; Imprint South Africa; House of Suitability; LSJ Designs| Hair & Makeup: Makole Made
---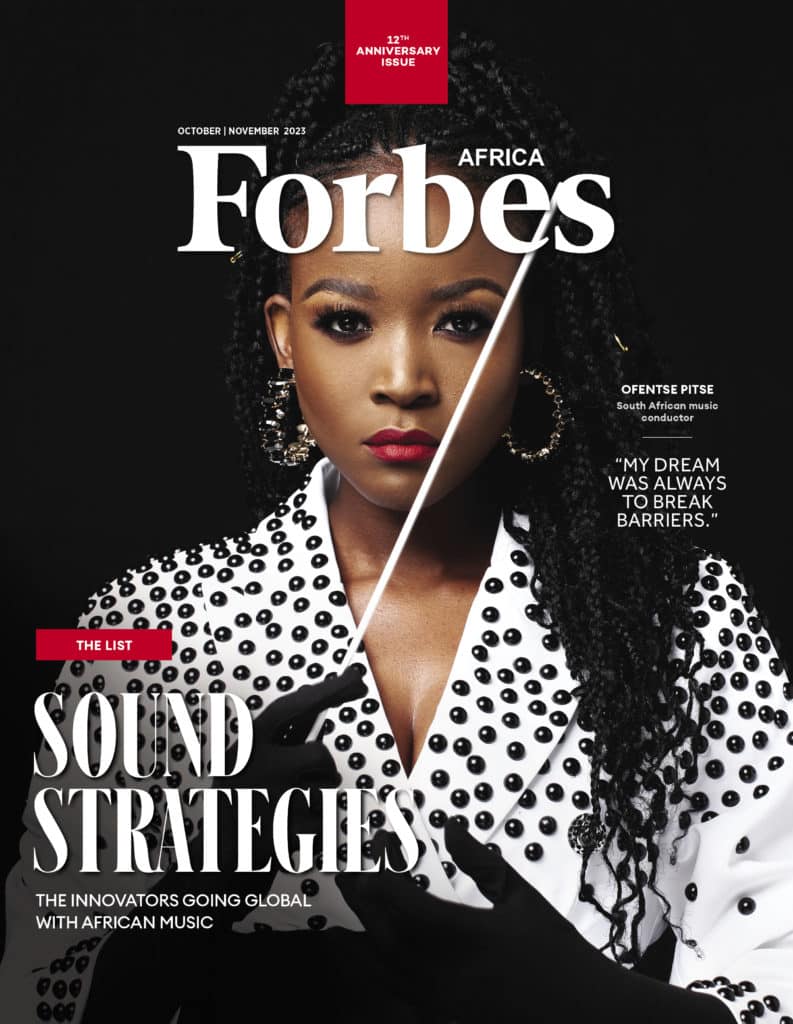 "She [Alicia Keys] is the one who actually picked me. She had five options. So it wasn't because I was a pretty look or whatever. She was like, 'Listen, there is just something about you"
POWER. THAT IS THE WORD that comes to mind, as Pitse walks on to the set with her conducting baton for the photoshoot for this feature. Hailed the youngest African woman orchestra owner, conductor, classical music arranger, producer, musician, and curator of intimate musically inspired/influenced spaces and experiences, it's not difficult to see why.
However, this has not come easy.
"You've seen me, I'm quite tiny," Pitse laughs. "You get into this industry where you see all these groot manne (big men) and they've been in the industry and the business for so long. So the question you always get is 'What are you doing here?' There's always that thing where I have to prove myself more than I should, and I always have to walk on stage or into spaces, or even at just rehearsals, being over-prepared."
Serenade Magazine noted in a 2022 article that the average proportion of women in orchestras is still less than 50% while the number of female conductors is barely 10% of the total.
"Historically, in the orchestra space, you would find that not a lot of women have even the first seat. You won't really have a female concertmaster, or even a female conductor," Pitse adds. "It's a very tough industry, because like I'm saying, you have to know more than what you are actually required to. So, there's always someone who's checking you and often it's a guy who's checking to see if [you] are who you say you are."
Born and raised in the rich and colorful City of Tshwane, it was in the vibrant streets of South Africa's capital city that Pitse first discovered and developed her deep love for music. With a family active in the Salvation Army, she soon found her way to its famous brass band, where she learned to play the English horn, trumpet, flugelhorn, and cornet.
"My grandparents were always at church and subsequently so was my mother. I had to learn something to just make sure that whenever she's having a meeting, I'm doing something at the same time," Pitse adds. "The trumpet became my first love in my introduction to music."
From the Salvation Army straight to one of Netflix's biggest shows, Queen Charlotte: A Bridgerton Story.
Grammy award-winning artist Alicia Keys wanted to celebrate the 20th anniversary of her song If I Ain't Got You, so Netflix created a 74-piece global orchestra made up entirely of women of color to perform a rendition for the show. At the orchestra's helm was Pitse.
"She [Keys] is the one who actually picked me. She had five options. So it wasn't because I was a pretty look or whatever. She was like, 'Listen, there is just something about you, and from what I've seen and what I've heard, you are so dynamic'." Although it felt exciting to have Keys co-sign her, Pitse felt a lot of pressure to perfect this as it was a song the world had marveled over for 20 years
"We were recording the music video and in between a take, the camera guys were switching cameras. I was standing on a step in front and [Keys] was at the grand piano on my left. She then started playing the diary and when I looked to my left, she was intentionally looking at me as she was playing.
"OFENTSE KNOWS WHERE SHE HAS COME FROM, AND SHE CERTAINLY KNOWS WHERE SHE IS HEADING – ALL THE WAY TO THE STARS."

—Adam Howard, South African music composer
"And now she's playing the diary and I'm looking at her and we are jamming to that diary. And it was such a special moment because I think at that moment, it meant so much to us that we were finally doing this. We were finally here [as an all-female orchestra]. When she stepped away from the piano and we were having our whispering chat, she said to me 'Listen, we did this'… and that was amazing."
Adam Howard, award-winning South African music composer and supervisor, describes Pitse as a visionary.
"I think Ofentse's view of what an orchestra is and can be is just what is needed in a sometimes stagnant and closed classical world. Her passion is palpable and her work ethic second to none. There is a powerful African saying, umuntu ngumuntu ngabantu, which means a person is a person through our relationships with other people. Ofentse knows this. She knows where she has come from, and she certainly knows where she is heading – all the way to the stars," says Howard.
When Pitse entered the industry, her main goal was always "to break barriers" so that classical music could be propelled into popular culture, something that became evident when she did the Netflix special.
"I've always tried to fuse the world of the very mainstream and sacred world of classical music with the mainstream world of pop," Pitse adds. "That is also something I continuously want to do and create more access [to] so if people can see that orchestra is actually not so boring, they will want to be a part of this world."