eSwatini and South Africa | DJ and record producer
Spotify Monthly Listeners:1.8 Million
YouTube Total Average Views: 33 Million views
SOCIAL MEDIA NET WORTH
Instagram: 2 Million
Twitter: 390.K
Facebook: 236K
TikTok: 1.7 Million
Words and Curation: Chanel Retief|Art Director: Lucy Nkosi | Photography: Katlego Mokubyane Photography Assistant: Sbusiso Sigidi Studio: NewKatz Studio, Johannesburg| Videographer: @astro.vn | CNBC Africa Videographer: Thabo Mathebula| Video Editor: Chanel Retief| Styling: Bontlefeela Mogoye and Wanda Baloyi | Outfits supplied by: Kworks Design; Imprint South Africa; House of Suitability; LSJ Designs| Hair & Makeup: Makole Made
---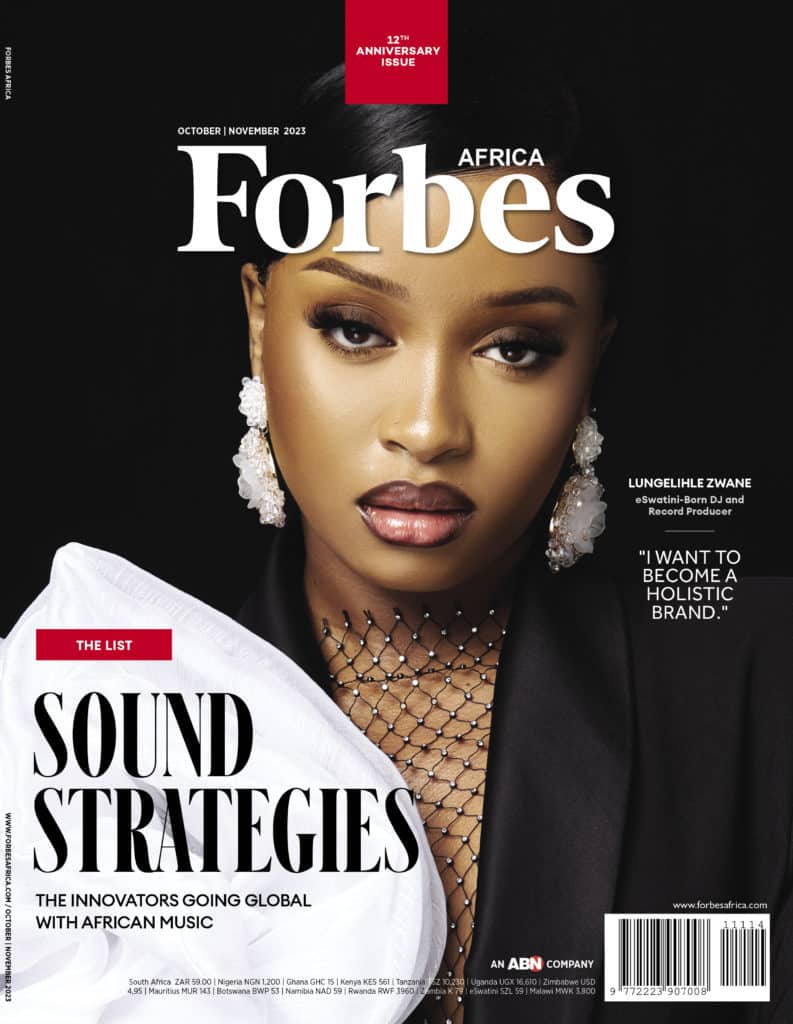 "What do I do to make sure I stay relevant? I've been granted this beautiful blessing. How do I make it the rest of my life?"
ZWANE, ALSO known as Uncle Waffles, is a true depiction of Generation Z, the demographic cohort shaped by the digital age and shifting financial landscape. Speaking to FORBES AFRICA about her trending accomplishments, Zwane says becoming an artist was not her initial plan. Destiny ordained it. And how.
"During the Covid-19 lockdown, I was working for a broadcasting company. I was doing small interviews with creatives here and there," Zwane says. "And then one day I interviewed a DJ." Zwane asked the DJ if she too could learn the art.
"It went from just a conversation to a couple of sessions, to eight hours a day for nine months, to falling in love with something I didn't think I could love. I took a risk; I put out a small post I edited on Picsart, [and here I am]."
Through the star power of social media, the eSwatini- born DJ was able to reach millions of viewers and that kick-started her career. Raised by a single mother who believed she could be whatever she wanted to be, gave her the added confidence.
Indeed, it is risky business becoming an artist.
"She encouraged me to just go for it," Zwane says. "As much as she was always like 'do it but have a backup plan', she always believed that because I am creatively inclined, I should just go for it. So when I was packing my bags and going to find gigs, she always believed in me."
Following the release of her debut single Tanzania, which reportedly took three months to perfect, Zwane's creation was ranked by Rolling Stone magazine as the eighth best Afropop song of 2022, with critics describing her as "a global ambassador for Amapiano". From across the world, she has received praise from award-winning A-list artists such as Beyoncé, Ciara and Drake, who have described her as a "top DJ [with] top sound", giving further impetus to her fame.
"There is this really cool DJ out right now, her name is Uncle Waffles," American singer, actor, and television personality Kelly Rowland reportedly said in May.
. "…She is so cool. She just played at Coachella, but I have known about this girl for at least about a year now."
However, as successful as she has been, it has not been without roadblocks.
Still young and entering the industry the way she did, staying relevant is crucial to Zwane.
"Being thrown into the industry, I had to learn while running. Because the typical stories [are] that you blow up, and then it falls away, you kind of disappear into the mix. So for me, I've blown up, [but] what do I do to make sure I stay relevant? I've been granted this beautiful blessing. How do I make it the rest of my life?"
For artists, it is not only about the music anymore. The stance taken by many entering the sector is that it's also about positioning yourself as a brand. Beyoncé had athleisure brand Ivy Park, which was in collaboration with Adidas on several collections.
American rapper and singer-songwriter Travis Scott launched not only a burger with McDonald's but also a sneaker with Nike.
Luckily for Zwane, it's no different as she has gained several endorsement deals in this short span with some of the biggest brands in the business, including South African multinational mobile telecommunications company MTN, and supplements brand, Slow- Mag. Recently, the talk of the town in South Africa has been her collaboration with one of the world's most popular fast-food brands, KFC.
In September, Zwane launched a new campaign for the brand featuring a food item in her name, the Uncle Waffles Burger. Despite mixed reviews, the significance of this "one-of-a-kind" burger was highlighted by KFC as showcasing "her journey in music and life at a time when her international success is gaining momentum".
"This is why we chose to create a campaign that shared real-life locations that have contributed to Uncle Waffle's success," Hloni Mohope, Marketing Director at KFC Africa tells FORBES AFRICA. "Social posts dropped clues daily so fans could physically discover and unlock the beautifully-designed custom QR code artworks at each location. This allowed them to tangibly experience and follow Uncle Waffles' meteoric rise. This story-telling aspect has really resonated with fans and helped us spread the beauty of Amapiano and celebrate Uncle Waffles. We are so proud to have partnered with such a force. This campaign has seen two giants with great taste create magic and bring it [to] the people!"
"I want to become a holistic brand who dabbles in everything," Zwane attests.
Part of this challenge – and something she has enjoyed doing – is the art of storytelling. Although there are those who downplay her DJing, especially as she is dancing, Zwane's belief has always been to change the narrative.
"What you realize is that internationally, they don't understand the music," says the 'Princess of Amapiano' (as dubbed by Billboard). "But they can only understand it through you. You're the one that tells the story. So they watch you, they understand that you've told the story, and you've gained a huge audience of people by doing so."
Jocelyne Muhutu-Remy, Spotify's sub-Saharan Africa Managing Director, wrote in August that in her opinion, young African artists are taking over the global stage and contributing to the growth of the African market, which could even rival markets like Korean pop (k-pop) in the international arena.
"This young population continues to grow rapidly while African talent across both spheres of music and sports is booming in abundance. This is demonstrated by the rise in popularity
and proliferation of African genres like Amapiano and Afrobeats internationally," Muhutu-Remy wrote.
It's Zwane's time, from performances at the prestigious Coachella and the Met Gala ("fashion's biggest night out") after- party in May, attended by some of the world's biggest names in the entertainment and music business, to having a BBC RADIO 1 Residency, Zwane wants to see more young women take center stage but hopes that they don't feel the imminent pressure to always be viral or trending.
Her advice: "Your success can come at a rate that's perfectly fine to you. The idea that you blow up and your life changes tomorrow is not as easy. You can literally be me with just a little more time.
But maybe you could even do better than me because you had more time. You have got to figure out who exactly you want to be."