Tanzania's beer-guzzlers have a locally-brewed option as this entrepreneur attempts to change the country's drinking culture with a social enterprise.
By Inaara Gangji
"Tanzania has a rich beer history. Each tribe has its own beer. They were producing beer [even] before the Germans," Swiss native and Tanzania-resident Raphael Flury says, in an interview with FORBES AFRICA.
That was perhaps the impetus for running his own outfit – a first-of-its-kind craft brewery and brewpub located in Arusha, Tanzania
When Flury acquired Twiga Brewery and its talented team in 2015, he wanted to offer more options to the Tanzanian market as an alternative to wine and mainstream beers. He got on board Tanzanian native Damian Mosoka as the head brewer, and more locals from the community to create locally-crafted beer.
"It was a desire for better beer but also to combine job creation and social impact. We did the research and thought this would be an interesting way to enter the beverage industry. We wanted to learn on the job about how this industry works," says Flury.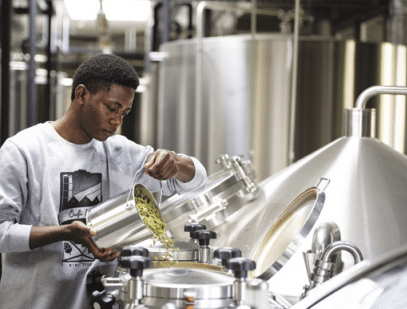 The brewery is his second sustainable venture; the first being an organic food company. It was a natural instinct to work with local staff and build capacity before expanding.
In line with its mission, Twiga focuses on premium beers and offering customers an experience – 80% of his client-base is Tanzanian.
"We do small quantities, which is typical for a craft brewery. All our ingredients are of the highest quality,
and we give it plenty of time to develop flavors. We aim to offer the customer a fresh tasting beer," adds Saphira von Moos, Flury's COO.
Served on draft and bottled, the beer aims to be all-natural, unlike industrial beer produced on a large scale.
"People deserve a premium product, brewed the German way. It is unfiltered with no additives," echoes Mosoka. However, their challenge is to convince the beer-favoring Tanzanian consumer that locally brewed beer is good, especially since it's not standard in the market.
"We have an innovative product and a lot of customer interaction as well. You can touch the brewery [the
machines and processes] which is an innovative concept in Tanzania.
"Not a lot of people know what a brewery is… but we are constantly trying to change the beer culture, and that Tanzanian SMEs can make quality products just as [well] as international brands," says Flury.
Another challenge is to convince customers that beers are best enjoyed cold, which is how it is served fresh from the draft. "It's fun to do all this work and take the customer with you on this journey…" avers von Moos, who also has a mandate to encourage women to join in key production jobs at the brewery.
At the end of the day, Flury wants to be a role model and show other companies that it is possible to create and sustain equitable businesses in Tanzania.
"As a social enterprise, we mirror our values in the company too. It's a marathon, it's not easy, but we want to be sustainable and a hub for young Tanzanian talent," he says.