In the heart of Johannesburg, in the trendy suburb of Rosebank–an address synonymous with the city's most creative movers and shakers–a one-year-old hotel is turning the traditional idea of what a hotel is on its head.
At voco The Bank Johannesburg Rosebank, a hotel is not simply a comfortable place to lay your head. Rather it's a place to work, walk, play and immerse yourself in the place–getting the best sleep of your life is just a bonus.
Positioning itself as the best address in Rosebank, this hotel/lifestyle brand may only have opened a year ago, but it easily stands out amongst a host of rivals.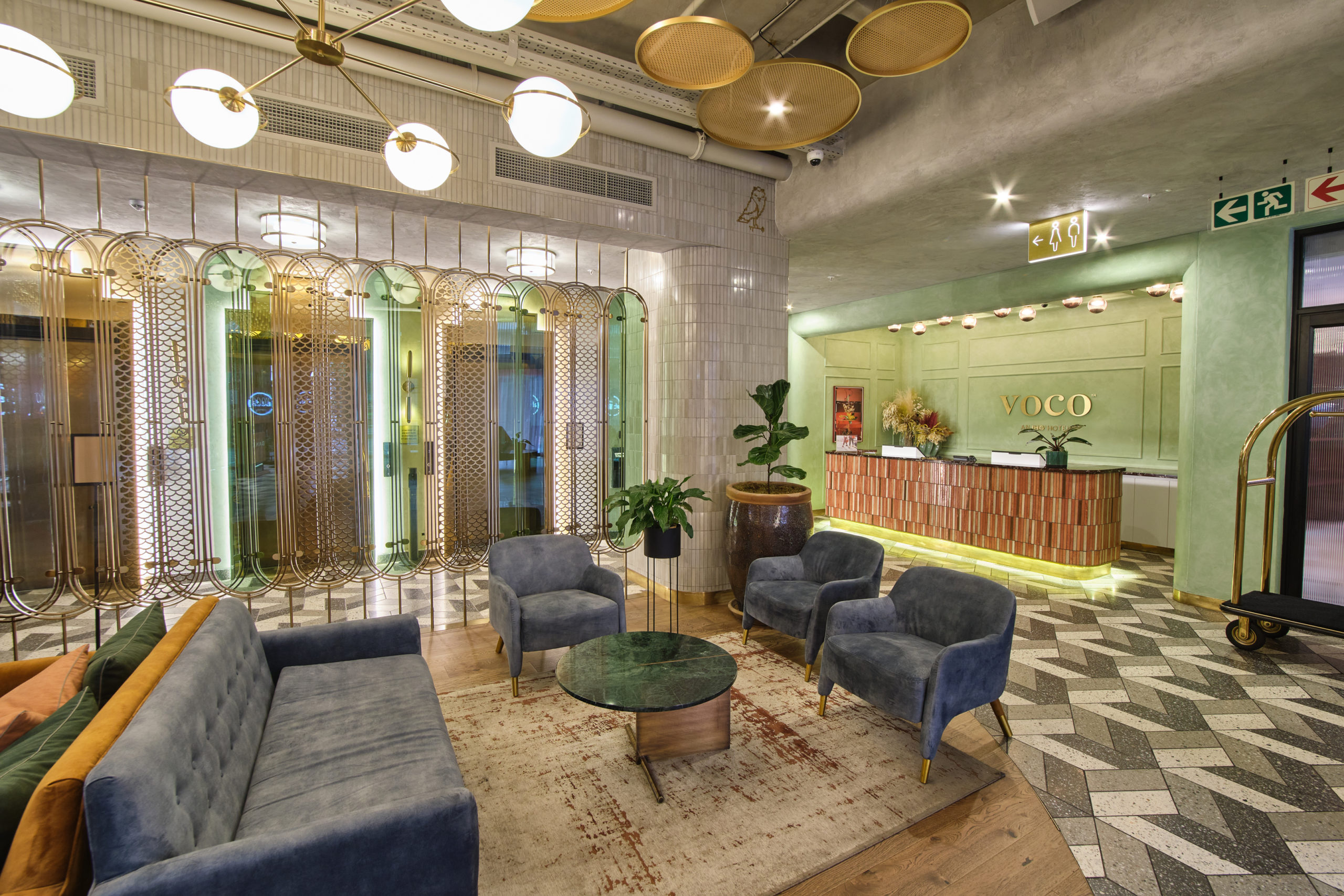 A MULTI-USE SPACE TO LIVE, WORK AND PLAY
The voco The Bank Johannesburg Rosebank experience is backed by the reliability of the renowned IHG Hotels and Resorts–with over 6000 hotels, 18 global hotel brands and an award-winning loyalty program IHG One Rewards which allows guests to earn and redeem points across all its hotel brands.
The state-of-the-art Manhattan-style building, boasting an Africa meets Big Apple art deco atmosphere, is a cleverly designed multi-use space offering an all-in-one user experience to live, work, play and shop.
With an art collection impressive enough for any glitzy gallery, complete with trained 'Art Butlers' that will guide you on a tour of the hotel's 800+ carefully curated original, South African pieces of artwork, the hotel delivers a playful–and fascinating–introduction to the art and design hub of Rosebank.
In a city where no one walks, Rosebank is a vibey and refreshing exception to the rule, with great shops, restaurants and meeting spaces within (safe) walking distance. And voco The Bank is well positioned to take advantage as the work, walk and play hotel of choice.
GUESTS KNOW WHAT THEY WANT
Guests may arrive strangers, but they'll leave feeling like a Rosebank local! Going beyond the trend of personalization, the hotel guest of 2023 doesn't want stuffy, overly formal or deferential service–or fluffy gimmicks. Exceptional service, yes, but with the freedom to truly relax and feel at home, whether travelling for business or pleasure.
voco The Bank offers guests the perfect space to recharge and enjoy a little 'me-time.' Or, like one of the hotel's three signature bird mascots being used by the brand globally–the flamingo–the chance to socialize all night long in the hotel's characterful restaurant and bars.
BIRDS OF A FEATHER
As an appealing lifestyle brand, voco The Bank's partners prove that birds of a feather do flock together.
The on-site Proud Mary restaurant is the place to see and be seen–an all-day eatery and wine bar that attracts both hotel guests as well as local visitors. Kitted out in a mid-century meets modern design, the restaurant offers up a selection of small plates in addition to a larger café and bistro-style casual offering, plus a superb boutique wine cellar and artisanal cocktails.
Guests at Proud Mary will be lucky to meet Katlego Mathobela, one of only a handful of Black female sommeliers in South Africa–and Proud Mary's first female sommelier. (Hotel General Manager, Jessica Redinger, is also leading the way when it comes to top female talent in hospitality in South Africa.)
The sexy Latin American restaurant Mamasamba is only 20 steps from voco The Bank, while the newly opened Fugazzi, a vibey Italian American restaurant, is also just steps from the hotel's front door.
For shopping, step into We Are Egg, a type of multi-brand department store with a focus on customer experience, and of course, offering shopping with a difference. The store offers a creative and unique retail experience, with the focus on elevating small local and international brands, side by side, with its massive selection of top local and African designers.
Guests needing to get work done are well catered for thanks to the affiliate partnership with Workshop17. Workshop17 The Bank gives access to flexible co-working spaces and office solutions in the most inspirational of settings. For guests needing a tailormade MICE space, forget boring, stuffy conference centres. On the third floor of Workshop17 is a fully-flexible, ergonomic 40-seater space, with cocktail and banqueting capacity for 100 guests.
EASY ON THE PLANET
Of course, today's hotels need to be serious about sustainability. And not just by paying lip service but proving that actions speak louder than words.
Sustainability was always at the heart of the hotel's mission. The hotel received the prestigious Impact Award as Best New Hotel Opening Team 2022 at the annual IHG Hotel & Resorts Awards for its many 'firsts', including:
• A solar farm on the roof that powers much of the building
• A heat recovery system that reuses the waste heat from the HVAC to heat water for the hotel
• Bedding made from 100% recycled materials (an estimated 150 plastic bottles are recycled per guest room through bedding alone)
• Glass water bottles (which remove an average of 300+ plastic bottles in every guest room per year)
• Biodegradable straws available upon request
• No more minis and hard-to-recycle amenities (Aveda products in the bathrooms are in large-format bottles, creating 80% less waste than miniatures)
• Aerated shower heads reduce water usage and lower energy consumption
Whether you're travelling for work or pleasure, local or international, you'll find voco The Bank is the address in the city–and an African hotel set for the future.
VOCO THE BANK FAST FACTS
DISCLAIMER: Brand Voice is a paid program. Articles appearing in this section have been commercially supported.