The new Samsung Galaxy S23 Ultra is undoubtedly a powerhouse in the mobile phone world. It is one of the best premium smartphones money can buy. Capable, durable and reliable, the phone has redefined the standard of what smartphone innovation should offer.
You take your work or business seriously, so does the Galaxy S23 Ultra, and its brainpower comes in the form of its newly designed central processing unit (CPU) micro architecture that boosts its processing abilities by about 30%.i. You'll stay in action for longer and not miss an important email, call or message as the Galaxy S23 Ultra takes you even further thanks to its efficient and long-lasting 5000mAh battery ii that powers it, long after your work is done.
Samsung's One UI 5.1 makes the user experience more welcoming and seamless with bolder, simpler app icons and a streamlined colour scheme. With One UI 5.1's Modes and Routines, you can create customized settings for different parts of your life from driving to and from work, having meetings, sleeping to exercising (For example, while you're in a meeting, your priority might be to mute notifications in order to stay focused and the phone would do that).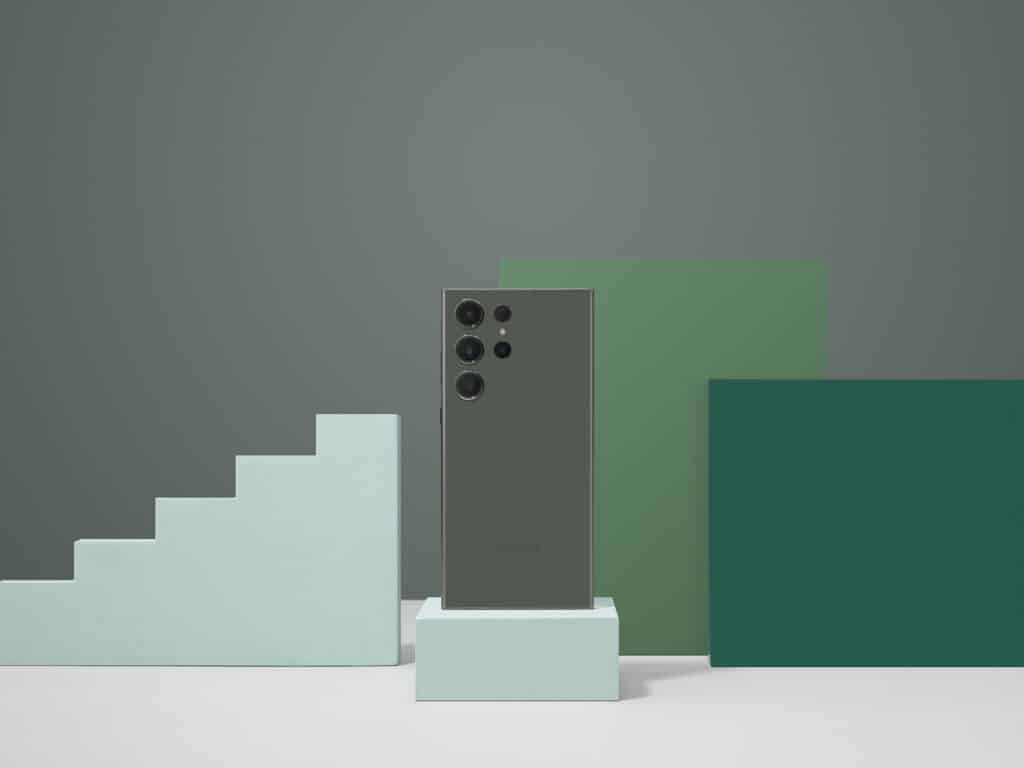 Between your office and downtime, the Galaxy S23 Ultra will keep your eyes engaged with its incredible graphics. Switching from your presentation to playing a game will hold the same visual appeal because one of the most significant improvements to the S23 is the optimized graphics processing unit (GPU).
With a powerful 200-megapixel camera, you can capture stunning photos even in low light conditions, as Samsung Galaxy's highly efficient neutral processing unit (NPU) architecture has been optimized by 49% to balance performance and power while using an AI algorithm to help users take epic photos and videos.
The Galaxy S23 Ultra's embedded S Pen turns moving between different applications into a breeze. It now supports more apps than ever as it helps you and your phone unlock new ways of being productive. The S Pen enhances your phone's functionality by bringing efficiency and productivity into tasks such as notetaking. You can sign documents, or conveniently jot down important thoughts or ideas whenever inspiration strikes.
What's more? Samsung and Google have made it possible and easier for people to have shared mobile experiences as you can use the S Pen to make edits or drag and drop images for others as you collaborate with your colleagues via Samsung Notes. With the new live-sharing feature, you can have participants directly edit documents using the S Pen. With these features and more, convenience is truly the name of the game with the S Pen, and you never have to worry about losing it because your phone will send a notification if it is moved when S Pen is not inserted.
The Link to Windows feature allows you to connect your phone and computer to easily transfer photos, manage notifications, respond to incoming calls, and send messages. Take multi-tasking to another level with Samsung DeX Mode that allows your phone to cast a PC-like experience to the big screen with the same apps you use on your phone every day.
Like all Galaxy devices, the Galaxy S23 series is protected by Knox, Samsung's defence-grade security platform that helps protect the device at all times with hardware-based security that mitigates threats and vulnerabilities throughout its lifecycle.
Buy any Galaxy S23 Series on a mobile contract plan, add the Galaxy Watch5 (from just R29/$1 per month), or Watch5 Pro (from R149/$8 per month) and get free Galaxy Buds2 Pro valued at R3999iii/$206 Alternatively, you can buy any Galaxy S23 Series on a cash purchase in store and get free Galaxy Buds2 Pro valued at R3999iv/ $206.
Save more and get up to R10 000 ($515) when you trade in. Purchase the Galaxy S23 today. Valid till 30 June 2023v.
DISCLAIMER: Brand Voice is a paid program. Articles appearing in this section have been commercially supported.