Through the AfCFTA and their own Vision 2030 blueprint for economic enhancement, Egypt is preparing to emerge as a world leader in the global economy.
"We have a lot of determination and we own a lot of capabilities and natural resources that can put us in the lead in the world."

H.E. Abdel Fattah President al-Sisi
            As Egypt embraces the initiatives behind the African Continental Free Trade Area Agreement (AfCFTA) and H.E. Abdel Fattah President al-Sisi 's Vision 2030, the country is on track to completely revitalise its economic landscape. Vision 2030, Egypt's blueprint for transforming the economy into a global powerhouse, is focused on specific pillars that are aimed at empowering sectors and enhancing the country's potential through youth development, technology, ICT, urban development, industry and infrastructure. On Egypt's efforts to become an economic world leader and its commitment to the AfCFTA agreement, H.E. President al-Sisi said, "We have a lot of determination and we own a lot of capabilities and natural resources that can put us in the lead in the world." Vision 2030 seeks to take advantage of Egypt's natural resources and its key geographical location in Africa to remove barriers to intra-African trade and increase the investments across the continent. Adherence to the agenda will improve connectivity to link the continent by rail, road, sea and air and will boost trade, spark growth and create jobs.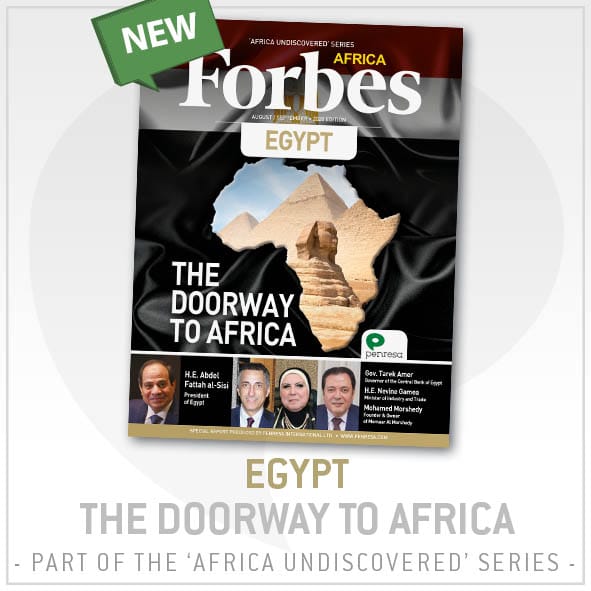 In order to realise these goals, Egypt must first prepare its most valuable asset: its people. Egypt has a growing young population, where about 62% of the population is under age 29. This creates near limitless opportunities as the country strives to penetrate new markets and develop its "Made in Egypt" brand. Not only that, but Egyptian youth are also unique in their worldview. The post-revolution generations in Egypt are empowered with visions to change the future of their country, and companies are meeting this passion with training opportunities and education. Mohamed Shalbaya, CEO of PepsiCo, says, "The DNA of Egyptians, especially after the revolution, is 'I want to achieve something'. Once you give them the right education, the right training, they excel. In the past two, three years, we have had 33,000 training hours for employees, and that gives us the edge because once they train, they can excel. Generation Z wants to be entrepreneurs, and we help them with that."
In addition to training, many initiatives to nurture ideas and invest in talent are in place, such as innovation centres and incubators for entrepreneurial growth. Hala El Gohary, CEO of ITIDA, says, "In 2013, ITIDA established TIEC: the Technology, Innovation and Entrepreneurship Centre. Its main mandate is to develop the entrepreneurship ecosystem by developing talent from the universities, giving them the basic education around how to create their own companies and to develop business plans." Technology centres exploit the youth's propensity for technology, creating opportunities to innovate business and penetrate new markets via the internet.
The TIEC also houses an incubator and an accelerator to help establish start-ups in the country. Gohary continues, "President al-Sisi launched a programme for capacity development for 10,000 African youth and 100 start-ups. ITIDA has been mandated to deliver this initiative. Last year, we worked with about 3,000 youth out of Africa and Egypt and we delivered 30 start-ups. The idea is to have these 3,000 make their own company, and some of them did. In the first year, we helped the most prominent start-ups showcase their products." With a driven and dedicated youth that are ready to become entrepreneurs, Egypt's future is in good hands.
Technology development and the ICT sector not only appeal to the capabilities of Egypt's youth but have also proved to be invaluable in the country's human capital development endeavour. Egypt has been working diligently toward innovation and digital infrastructure for the benefit of all. H.E. Amr Talaat, Minister of ICT, says, "What is driving the telecom growth are internet penetration, more fixed broadband and more households with a computer. As for the IT sector, that's a transformation on which Egypt is embarking impressively." H.E. Talaat continues, "We need to create an ecosystem that encourages innovation and entrepreneurship. We are inviting start-ups into ideation camps, matchmaking forums, creating innovation hubs across the campuses of universities so that students can form teams, aggregate their solutions and focus on specific goals." A strong digital infrastructure opens many opportunities and plays an innovative role in the overall wellbeing of the African continent.
In terms of urban development and infrastructure enhancement, the Central Bank has launched an EGP 50 billion programme to aid real estate developers to finance housing units for middle-income families. As the sector influences other industries, supporting real estate development and the local industry is one of the government's priorities. For the 2020/2021 fiscal year, Egyptian government investment expenditures have been increased from EGP 150 billion to EGP 230 billion to expand various development and service projects nationwide. The New Urban Communities Authority fiscal budget has also been increased, amplifying construction company expansion.
The goals of the AfCFTA and Egypt's Vision 2030 is to empower African industries, accelerate intra-African trade via a continental geographic zone in order to boost the continent's position in the global market. Overall, the initiatives seek to strengthen the common African voice in global trade negotiations, a position that is long overdue. The Minister of Industry and Trade, H.E. Naveen Gamea, says, "The AfCFTA is a big step towards the economic integration through the actual liberalisation of trade, as it achieves major strides in the rates of economic development, and regional and continental integration through the productive and commercial integration based on competitive edges and building value-added chains across the continent. Egypt is keen to achieve tangible results in the fields that can lead to the regional economic integration and development, connecting civilisations and cultures of the African countries and deepening the cooperation with the international partners, as well."
DISCLAIMER: Brand Voice is a paid program. Articles appearing in this section have been commercially supported.